One of five finalists for the ASCE's 2012 Outstanding Civil Engineering Achievement Award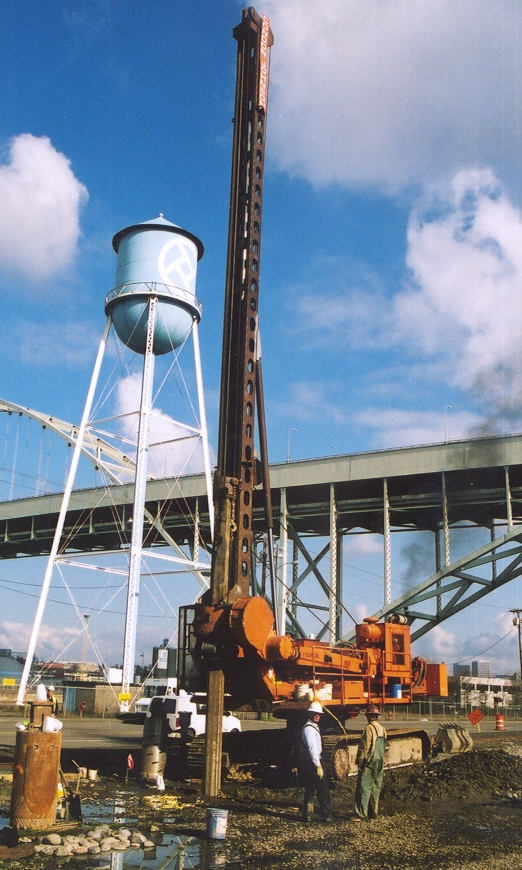 DESCRIPTION: The City of Portland Bureau of Environmental Services constructed new ±14‑foot diameter (Westside) and the 22-foot diameter (Eastside) Combined Sewer Overflow (CSO) tunnels near downtown Portland. The tunnels extend more than 100 feet below the ground surface and have a combined length of over 10 miles. The project included numerous drop shafts, outfalls, a pump station, and a tunnel crossing of the Willamette River.
SERVICE: Foundation Engineering provided information for characterizing the subsurface conditions along the tunnel alignments. The initial work included geologic assessment of the proposed alignments based on existing subsurface data and geologic mapping. Historic shorelines, wetlands, streams, and topography in the downtown area were identified to evaluate fill depths and the location of pilling and buried structures that could impact tunnel design and construction.
The second phase of work involved extensive subsurface explorations. The Westside tunnel exploration included 101 geotechnical borings, 13 cone penetration tests and 13 tomography borings to support geophysical investigations for subsurface obstructions. The exploration included four barge-mounted borings for the Willamette River tunnel crossing and three large diameter (drilled shaft) borings to investigate the size and frequency of boulders. The borings were advanced to characterize conditions for the access and drop shafts, the Southwest Parallel Interceptor, the Peninsular Force Main, the Swan Island Pump Station, and the Tanner Extension. Groundwater response monitoring and single point diffusion testing was performed to investigate the groundwater conditions for the Swan Island Pump Station. Our team worked with various City agencies to obtain drilling and traffic control permits to conduct drilling within City streets and parks.
The nearly 6-mile long Eastside Combined Sewer Overflow tunnel alignment extends between Swan Island and the Westmoreland neighborhood. The exploration for this phase of the project included 75 mud rotary borings with 29 monitoring wells and seven slope inclinometer installations. Foundation Engineering also provided geophysical investigations to help locate steel piles near the tunnel alignment. A series of test pits and vacuum excavations were also completed along the historic eastside Willamette River shoreline to investigate and identify potential historic piling, train trestles and man-made debris for microtunneling.